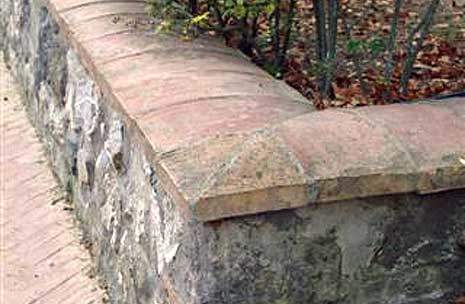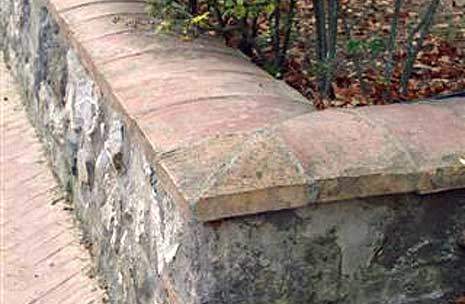 Wall capping with terracotta artisan tiles
It is all-absorbing and very interesting to finish your house, even more complex than building or renovating it. Without finishing an apartment or a garden would not be complete, they would lack that touch of elegance and style that distinguishes them and speaks about its owner.
Wall coverings: the different finishes
The different wall coverings that you'll find in this section are ideal for finishing columns, staircases, balustrades, gardener and all smooth surfaces located both indoor or outdoor. The only limit is your imagination. They are equippedwith a drip to help in water drainage in order to prevent the ingress of moisture which eventually come to damage the coatings. A wall covering can also be used to bind a column, to finalize a windowsill, to give personality to a handrail or a breath of freshness to fences, shelves and other decorative elements.
Enrico Palmucci gives the opportunity to enrich the whole house with innovative details and class,. Terracotta is a
natural material with an elegant allure, its porosity is able to withstand bad weather and offers great thermal insulation to
any environment. Our technical specialists will also offer custom size wall coverings in different formats and sizes to
better define the most unusual buildings.
Info request
Colors, treatments and finishes of Enrico Palmucci's wall cappings
Enrico Palmucci offers a wide range of colors, treatments and finishes, to best represent and interpretate the taste of each customer. Sanded finish, for example, is ideal to decorate thresholds, fencing walls and barbecues; its rustic charm makes it perfect to finish the chimney or skylight. Polished finish is instead appreciated by those looking for sophisticated coating, to make less dangerous their own pool, but can also be used to complete steps, embellish arches, cellars and other masonry work.
Our colors are suitable for all coatings and all furnishings, they embrace a wide range of colors, from basic to most original tones. The basic colors are the following: light ocher, rosé and red. They are the perfect choice for lovers of delicate and timeless beauty. The contemporary colors are chocolate, black, gray and white, and they help to create a more unconventional and contemporary ambience.
Our masters are at your complete disposal to help you to better interpret your needs.They will also assist you with a 360 degree service that includes posing and treatments. All our effects, from natural to dark leather, and the finishes are obtained according to typical procedures and professionalism.
Wall cover
Flat wall coverings, double bull or convex
Sizes: 40×7,5×4
35×17,5×4
43,5×6,5×4
43,5x12x7,5
45,5x20x4,5
We also make custom piecesBricks
We produce different sizes of handmade terracotta bricks. Sizes, thicknesses and colors are suitable for all kind of
environment both indoor and outdor. We produce bricks for fireplaces, arches, squaring of doors and windows, columns,
barbecue and we can realize even custom pieces. Bricks of this type are often used as steps in rural homes.
Bricks for walls
sizes and thicknesses: 13×26 sp 3,0
13×27 th 4,0
12×26 th 5,0
15×30 th 4,0
15×30 th 5,0
15×30 th 6,0
17×34 th 4,0
16×32 th 7,5
Richiesta info