Antico Restauro
A NEVER ENDING ADVENTURE
A skilful mixture of selected clays, experimentation in working with and firing clay, and respect for traditionare the underlying fundamentals in the creation of a product with unique aesthetic characteristics.
Hand-made terracotta floors for Antico Restauro"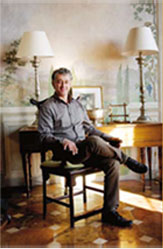 The enterprise
CUSTODIANS OF AN ANCIENT WISDOM
The charm of clay with its characteristics of plasticity and transformation has succedeed in giving full expression to our innate need for experimentation.
Here, in this particular corner of the land of Umbria, in Castel Viscardo, where the art of hand-made bricks and tiles has roots as old as time, our passion has been nourished and found the right place to develop, leading to the creation of COTTO PALMUCCI, a dynamic and enterprising firm that in just a few years achieved top place for quality in the production of hand-made building materials in terracotta.
The furnace Enrico Palmucci and its products in terracotta
Atmosphere, competence and passion are the keywords of Cotto Palmucci, a Company that has invested in ancient handcraft skills of the processing of terracotta, a natural and bio-compatible material.
Terracotta is a material derivated from clay, a natural product of the Earth. Appreciated in building constructions for its many physical properties, it is processed by Palmucci Cotto accordingly to the processes of the past, to restore the historical shine of old floors or give a twist to modern living environments. Once cooked, it becomes a real, unique and inimitable piece of furniture; each tile is in fact full of original and warm tones, while the different finishes have the final task of giving personality and charm to all sort of environments.
Methods for handmade terracotta
Our handmade terracotta has multiple varieties of finishings and textures and offers different style decorations and coverings. For example, sanding is ideal for the upholstery of rustic villas and historical residences, because it allows you to simulate the wear of time; instead polishing helps to preserve the natural color of the ancient terracotta, that is why it is particularly used in the areas of the house dedicated to relaxation and comfort.
Works and special characteristics of our methods
The wide range of methods and effects that can be applied on our terracotta floors are edited and created by Enrico Palmucci's technical experts and cover different finishings: from natural, delicate and elegant tones, to the more decisive and trendy ones like black and white, to enhance both classical environments and those concepted in a contemporary style. Moreover, thanks to its high thermal resistance, our terracotta can be applied in roofing and flooring for indoor and outdoor. For his incredible ability to withstand frost, heat and humidity, it can in fact be used for covering roofs, decorate barbecue and chimneys, or be posed on poolside floors, thresholds, window sills, walkways and flowerbeds garden.
Cotto Palmucci is located in Castel Viscardo, in the heart of Umbria, where the ancient Italian tradition of terracotta was born. An atmosphere in which the experience of our highly qualified technicians is entirely put at the service of our Customer. In addition to the offer of high-quality floors and of all the materials needed to start laying, we also guarantee our full support during all the phases of the project and construction: from the inspection of the area of application, to the drafting of the anti-stain treatment, through the definition of the ideal drafts, to better interpret every your desire.