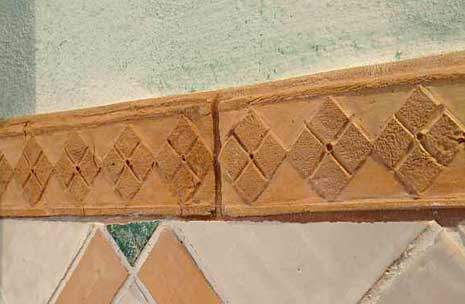 Customize environments with terracotta greeks
All the rooms of the house can be customized in an infinite variety of ways, but the greek expertly carved by hand by the master craftsmen of the Company Enrico Palmucci, give a precious finishing because they fit both in classic and modern ambiences.
Each piece is unique and original and each environment acquires a touch of flair and flavor, thanks to the wide range of shades, for every need of the customer.
Read more…

With our greeks engraved by hand, the environment acquires a seduction out of the ordinary. The mix of different materials just like air, clay and fire, united to inspiration and creativity of our masters, creates magic environments and give them valuable touches. Far from the standardization of machinery, the desired 'imperfections' are the indisputable sign of craftsmanship.
The greeks engraved by hand by Palmucci's Company are the result product of a living material, where competent craftsmen operate with passion.

Customized colors and shapes.

The effect of the greeks engraved by hand its unique in his gendre, original and can be carefully blended or left natural before being pressed into wooden frames from different shapes. The adjustment of the borders is strictly carried out by the skilled hands of our master craftsmen.
These techniques do not involve the use of any modern machinery, each greek will always remain unique, with its own details and imperfections that each specimen possesses in a different way. The artisan's flair is free in the choice of colors, between monochrome and polychrome, surpassing any convention and making singular and exclusive environments.
The matter is enhanced with a shape that reflects the ecological bio-architecture criteria with the finishing differences that adapt to different spaces.
Material combinations with terracotta greeks
Raw or processed, the Greek contains lots of references to the past but at the same time it keeps its modernity and it's perfectly suitable to both classic an contemporary furnishings.
Read more…

Wood or marble will be perfect combinations for it and its handmade engravings will create significant contrast harmonies. Ambiences will regain their expression.

Greeks engraved by hand

Greek for frames and majolica finishes
Hand-carved crafts
Sizes: 8x30x1,5
Info request