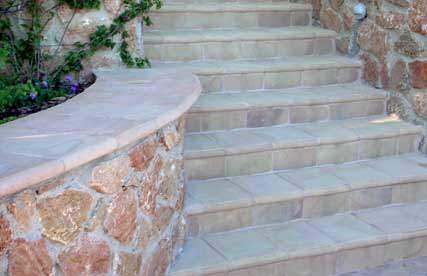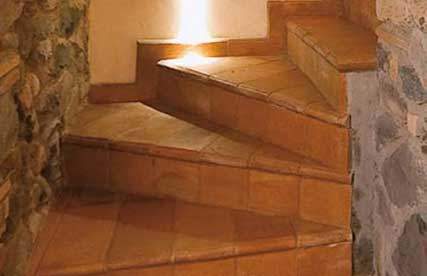 Handmade terracotta steps and monogradini
Here is some information on our production of hand-worked terracotta steps and monogradins:
– Go to the terracotta tiles steps
– Go to the single cotto step
– Go to the Gallery to see our products
The steps
Enrico Palmucci also produces steps for stair coverings in different formats:
– 15×30 thickness 2.5,
– 17×34 thickness 3.0,
– 25×34 thickness 3.0,
– 17×34 thickness 4.0,
– 25×34 thickness 4.0,
– 30×30 thickness 3,3,
– 20×40 thickness 4.0,
– 125×34 thickness 5.0,
with left and right angles and coordinated skirting boards.

Terracotta steps for internal and external stairs
For the realization of the steps, Enrico Palmucci allows to choose between a wide catalog of workings and colors, even if for its non-slip characteristics, the rough and rustic surface is the most suitable for the purpose.
Read more

The terracotta products of Enrico Palmucci are characterized by the simplicity and warmth of the material itself and blend harmoniously in modern, rustic and classic settings.
The steps proposed by this company are the perfect finish for internal and external stairs.
Moreover, these totally handmade products can be installed in new buildings and can also be the new detail in case of renovation.
The steps made and produced by Enrico Palmucci, in fact, are a real ornament for the home and for outdoor environments.

Processing of terracotta steps handmade by the Palmucci furnace

The terracotta surface of the steps can be subjected to different processes (sanding, sanding, etc.) which allow to obtain special and personalized effects such as the rustic type and the Antico Restauro line.
Even the color scale created by Enrico Palmucci allows you to find the nuance best suited to the individual context with lighter and shaded colors, rose shapes and tiles with different intensities of red.

The realization of a staircase is a detail of no little importance in any environment, in fact, in addition to the function it performs, it can be a real aesthetic ornament. Enrico Palmucci offers a wide range of steps, monograde and thicknesses to create elegant, functional and resistant grades.
Choosing a handmade product with ancient workmanship by Enrico Palmucci means opting for the uniqueness of an artisanal creation and a great resistance over time to mechanical stress.

The variants offered by the company allow you to choose the perfect steps for every environment, not only rustic and classic, but also for more linear, sober and modern living styles, thanks to the simplicity of the shapes, colors and the terracotta itself.
Info request
Terracotta stairs: the single-tile step
It is a unique, elegant piece, suitable for both internal and external stairs. The standard size is 120x34x5, with bull. As for all the elements belonging to the classic collection, there is the possibility to request customized monogradini.

Gallery of steps for terracotta stairs for exteriors and interiors
Gallery of some terracotta steps built and installed by the Palmucci furnace. The workings of the steps make it possible to create items suitable both inside and outside, even non-skid.
Info request