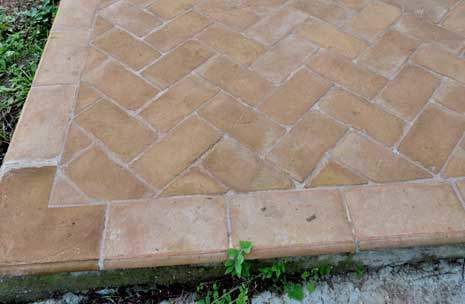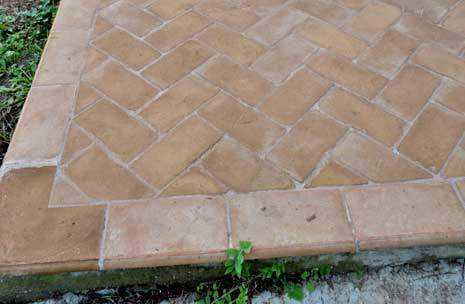 Terracotta bricks for sidewalk edges and internal thresholds for windows
Machining, finishing and color of Palmucci's curbed terracotta tiles
All the buildings that you will find on this page are made in terracotta, a cheap but precious material, ancient but with modern characteristics: multi-purpose, water resistant, able to withstand the test of time, and therefore able to coat and finish any surface with excellent results. Its warm and discreet charm allows it to marry with any environment and decor, while its ability to withstand the climate changes makes it a versatile product that can be used both inside and outside the house.
Read more…

The multiplicity of colors, effects and treatments offered by our expert craftsmen will have the task to better interpret the desires and tastes of each client. The light ocher variation has an impressive sanded effect for example, and offers a rustic and tasteful slip coating for balconies and terraces.The hand-molded finish in the modern chocolate tone, with a polished treatment, is designed to provide a contemporary and sophisticated style to your verandas and to all the surfaces that you want to highlight in combination with walls colored in neutral tones.

Obtained without the use of colored oxides, our black is a natural and environmentally friendly product, With the other contemporary finishes just like gray and chocolate, it will make cocoon and refined all the places of relaxation like the poolside. For lovers of nature, we are able to realize even the curbs of natural type, those that do not show sanding, varnishing or sanding: they are ideal for enhancing the allure of rural houses, mountain huts and hamlets.
Hand-made terracotta products tailored on customer's choice
The products of Palmucci's furnace are handmade, in respect of the ancient Italian tradition of terracotta workmanship.
They can be joined tone on tone to floors for the most traditional and classical settings, or be chosen in a contrasting color for a style different from the usual patterns.
Our sidewalk borders can have rectangular or square shape and be arranged in a plane or in a vertical way, in order to
give life to a step or to the lifting of a flower bed, but if you pose them around a round-shape structure, they will be able
to finish the flooring with curvilinear trajectory too, just like those of the access paths.
Sidewalk borders
Used to finish the edge of the sidewalks, it is also used for interior window sills
Sizes: 15x30x2,5
17x34x4
20x40x4
30x50x4
Left and right corners are also available.
Info request