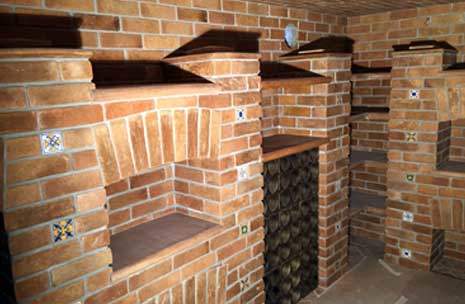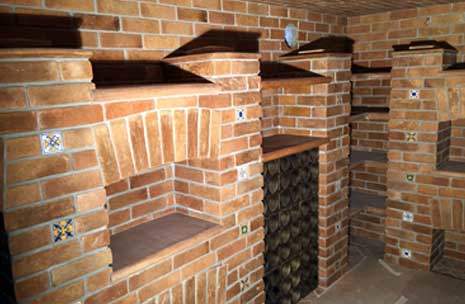 Terracotta handmade bricks coating for biocompatible environments
Terracotta demonstrate all its charms, and only the ancient art masters, know handcrafted shaping artifacts, are able to
respond to an increasingly demanding clientele, seeking for an aesthetic role in the brick and rehabilitation.
Handmade terracotta bricks for coating
Terracotta bricks were used since ancient times and over the years they replaced wood and stone. Previously used in their natural state, they currently play a key role, since they have been shown at their best, thanks to the skillful finish, color and to special aesthetics characteristics.
Read more…

Enrico Palmucci's Company uses its brickwork for each type of coating and works with artisans who give them a lot of importance to details and fine finishes combining quality, experience and strength. In that corner of Umbria where the art of terracotta is lost in the mists of time and where it is given a lot of value to the manual work, to passion and sophistication in order to give aesthetics, design and durability to any living context.

Palmucci's terracotta coatings ensure a 'vintage effect' and a flawless dramatic production due to the wide range of
products that allow you to choose soft, contemporary lines but may suddenly move to the reminiscent of the old country
houses of our ancestors.
Magical atmosphere for precious and comfortable ambiences.
When terracotta is made with passion, as the Company of Castel Viscardo does, each coating becomes a unique and exclusive product, because terracotta is made with passion and it's the result of continuous studies, sophistication and a lot of effort and skill.
Read more…

Is the constant research of our engineers and architects to make our products original and exclusive, in order to create spaces that recall nostalgic conviviality and family hours.
But the terracotta cladding fit very well with minimal and contemporary environments where they find full expression, especially in unusual colors ranging from gray to black and entering in perfect symbiosis with the green architecture, because their coloring is done with very ancient processes that don't provide for the addition of colored oxides.
The Company's philosophy is based on craftsmanship and although we live in a standardized industrial environment, our Company wants to offer to its customers products that marry with all styles without detracting from good taste and elegance. Above all, the value of the respect for nature, consequence of these products that arise from the combination of earth, water and fire.
Palmucci's terracotta coats all sort of columns and surfaces with natural effects ranging from leather hues to those more decisive and trendy like black or chocolate, with matt or gloss finishes in respect of the buyers tastes.
Coating
Columns can be coated with bricks of any size, both square and cylindrical bases.
Possibility of custom coatings.
Elle measures: 13×26 sp 3.0
13×26 sp 5,5
15×30 sp 3,0
15×30 sp 4,0
15×30 sp 6,0
Info request